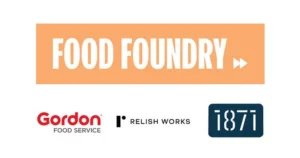 Relish Works, in partnership with Gordon Food Service and 1871, are kicking off their third cohort of Food Foundry, a growth accelerator for companies building the future of the food industry, in May 2021. Applications are now open.
The food industry is facing unprecedented challenges due to the COVID-19 pandemic, and innovation remains critical as businesses fight to adapt and survive. Food Foundry is searching for startups that are shaping a stronger future by taking fresh approaches to these challenges.
With over 120 years in the industry, Gordon Food Service is uniquely positioned to provide startup companies the knowledge and resources they need to build solutions for the future. In addition to industry expertise, Food Foundry also provides:
$75,000 in venture capital funding
Tailored curriculum, workshops, and mentorship from seasoned founders and advisors
Membership to 1871, including a world-class growth curriculum and exclusive perks
Access to Relish Works' co-investor network to raise capital for scaling operations
Ability to leverage Relish Works' experts in design, business operations, and branding
Learn more here.