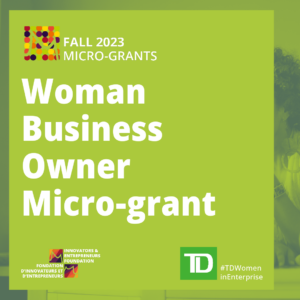 Six x $5000 micro-grants available 
To be granted to empower women business owners through financial aid to fuel their entrepreneurial endeavors and achieve their business goals.
The Innovators & Entrepreneurs Foundation (IEF) Micro-grant program is designed to provide a financial boost to Canadian small and medium-sized businesses (SMEs) that are already operational, generating revenue, and who need a financial boost to improve their business operations.
The goal of the IEF Micro-grant program is to support founders belonging to equity-deserving and/or racialized communities across Canada overcome financial obstacles and achieve growth, sustainability, and success in their businesses.
IEF Micro-grants offer its recipients a business cash injection to be used to fund various business activities such as marketing campaigns, digital enhancements, employee training, international expansion, equipment upgrades, and more. IEF collaborates with its micro-grant partners and sponsors to determine the eligibility requirements for each micro-grant category.
Open call for applications for the Fall 2023 micro-grants will run from October 2, 2023, 9am ET to 11:59pm PT on November 12, 2023. All applications must be submitted through the charity's website portal.