Veras Technologies Inc.
Veras Technologies INC. is a secure voting, engagement, and communication platform for governments, corporations, and other organizations. Veras was founded by Peter Hurd-Watler, a current undergraduate Management and Urban & Regional Studies student at the University of Lethbridge. Peter is the President & CEO of Veras Technologies INC., which is incorporated with its headquarters in Calgary, Alberta.
Veras' vision is to create trusted connections across the internet between people, governments, and corporations. They fulfill that vision by providing key services to their customers with their platform.
First, Veras' provides secure and convenient voting for citizens, corporate board members, shareholders, and other stakeholders. This solves the main problems with traditional voting methods including inconvenience, voter turnout, accessibility, identity verification, and security vulnerabilities. Second, Veras' platform supports ongoing trusted communication that empowers citizens with a verified voice to communicate their concerns, feedback, and initiatives to their governments and representatives, thus enabling increased transparency and accountability in the political process. This in turn enables politicians and government administrators to make better, more informed decisions. For corporations, Veras' ongoing communication software provides authentic engagement and feedback from board members, shareholders, and stakeholders. This enables companies to take in everyone's perspective and make better decisions to benefit all of these groups. Lastly, Veras' tailored market research service allows them to understand their customers' root problems and pains with their current election and engagement systems. It also enables Veras to generate feedback from their users and customers in order to constantly improve their product and provide the best solution.
Peter Hurd-Watler and the entire Veras team are extremely humbled and grateful by the ongoing support they have received over the past few years from many people and organizations. This includes the University of Lethbridge, the Agility Entrepreneurship program, Tecconnect, Businesslink, Craig Elias and his 150Startups program, and the greater Lethbridge and Alberta community. Veras has high hopes for the future and looks forward to helping improve the world by creating more trusted communication between people, governments, and corporations.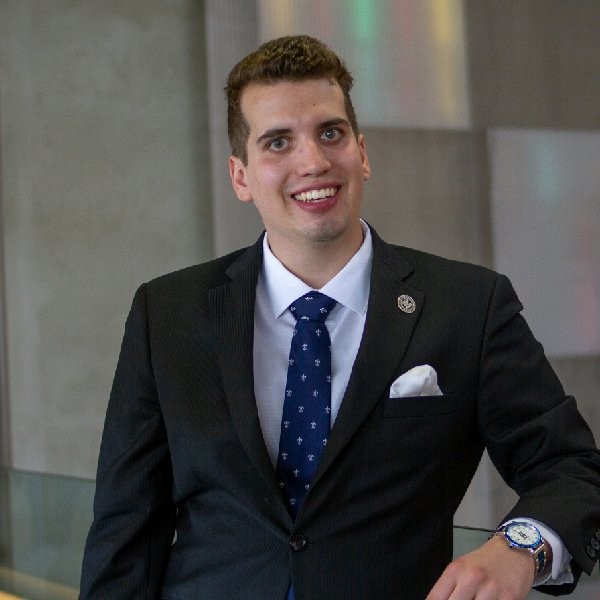 Peter Hurd-Watler
Peter Hurd-Watler is the founder, President, and Chief Executive Officer of Veras Technologies INC., he is also a current undergraduate student majoring in Management and Urban & Regional Studies at the University of Lethbridge. He founded Veras based on the problems he observed with the current voting and engagement systems between people, governments, and corporations. Peter has been an entrepreneur for most of his life. His first endeavor was selling cans of pop in Junior High, then moving onto his own window washing business in high school. When he is not studying for university, or leading his company, he enjoys traveling, numerous outdoor activities, and playing rugby. Peter has traveled to over 45 different countries, including a solo backpacking trip across Europe. He hopes to visit every country within his lifetime. Peter achieved the Chief Scout Award in secondary school, and his love for the great outdoors stays strong to this day. He enjoys going canoeing, hiking, and cross-country skiing as often as he can. Peter's favourite sport to play, and watch, is rugby. While in high school at Henry Wise Wood Senior High he and his team won Division 1 City Championships. Peter currently plays for the Lethbridge men's Trolls Rugby team. He hopes we will all be in a safer environment come this fall so he can play for the team again. Peter is grateful for his mentors, team members, and other key individuals who have helped him get Veras to where it is today. He looks forward to the future, strengthening his current relationships, and meeting new amazing people that will help fulfil Veras' vision.